Power of Turkish passports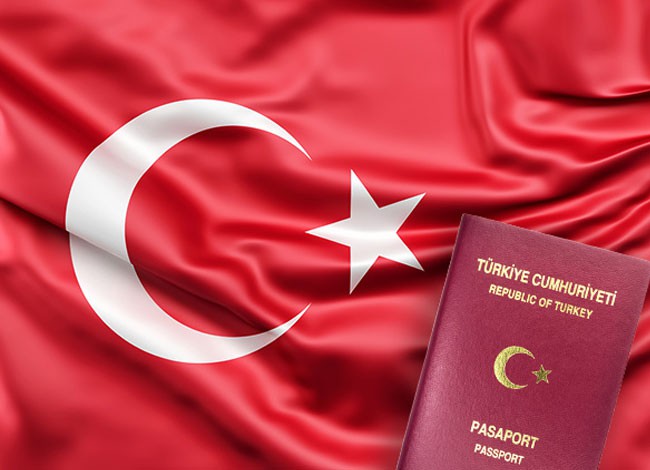 The pursuit of obtaining Turkish citizenship has increased in recent times with the need of carrying a Turkish passport because of its advantages, as the passport provides protection for its holder within the territories of other countries and allows entry to many countries without a visa.
Turkey also gives its citizens several types of passports, each passport has special advantages that differ from others and ,of these types:
Ordinary passport
Private passport
Stamped passport
Diplomatic passport
For a normal passport:
Its color is red, which any Turkish citizen or foreigner with Turkish citizenship can obtain directly after the issuance of his Turkish identity card.
Private passport:
It is green in color, and it is given especially to high-ranking officials of the Turkish government.
Stamped passport:
Gray color, given to employees and journalists.
Diplomatic passport:
Black color, given to ambassadors and diplomats.
The Turkish passport has several advantages for its holders, as it is ranked 38 in the world and 18 in Europe,the evaluation and arrangement is according to the number of countries that the passport holder can enter, without an entry visa, or with a visa issued upon arrival.
It is worth noting that the Turkish passport from not long ago was ranked 50th in the world, but thanks to the good relations between Turkey and the countries of the world, the government's interest in air transport, and support for tourism, Turkey was able to progress to the 38th place in a short period, as it is expected That Turkey achieves progress in the global ranking by 2023 due to its great interest, establishment and financing of mega projects in the tourism and flight transport sectors.
The Turkish passport allows its holder to enter 72 countries without issuing a visa in advance, and it also allows travel to 40 countries. The visa is issued from the airport upon arrival, it also gives the right to issue an electronic travel visa online for 8 countries, according to the following:
All of the countries (Iraq - Jordan - Palestine - Qatar - Libya - Lebanon - Morocco - Tunisia - Syria - Oman - Albania - Argentina - Belarus - Bolivia - Bosnia and Herzegovina - Botswana - Brazil - Chile - Colombia - Costa Rica - Dominica - Ecuador El Salvador - Georgia - Guatemala - Haiti - Honduras - Iran - Kyrgyzstan - Kazakhstan - Jamaica - Japan - North Korea - Kosovo - Macedonia - Malaysia - Mauritius - Moldova - Mongolia - Montenegro - Nyaragua - Panama - Paraguay - Peru - Philippines - Russia - Serbia - Singapore - South Africa - Thailand - Ukraine - Uruguay - Venezuela) to enter without a visa.
It also grants each country (Armenia - Kuwait - Bahrain - Sudan - Mauritania - Comoros - Djibouti - Azerbaijan - Cambodia - Indonesia - Guinea - Madagascar - Maldives - Mozambique - Nepal - Tajikistan - Tanzania - Togo - Uganda - Zambia - East Timor - Ivory Coast) Visa from the airport issued on arrival.
And each of (Mexico - Myanmar - Rwanda - Senegal - Sri Lanka - Australia) grant visas via Internet.
About 94 countries impose a visa on Turkish citizens, of which about 28 are European Union countries.
In addition to the previous privileges, the Turkish passport allows many privileges and facilities, as it is possible to submit a request to obtain a passport directly at obtaining Turkish citizenship without the need for a residency period, as in most countries, the passport transaction takes place within approximately one month, which is a relatively short period compared to other countries, in addition to the fact that the Turkish passport is long-term and does not need to be renewed except once every 10 years , the foreign citizen will not be obliged to renounce his original nationality, as dual nationality is a legal right, and the Turkish citizen while he is outside the country is granted full civil rights, the right to vote , benefit from retirement programs for the Turks and benefit from free health and educational services, Syrians who obtain Turkish citizenship can enter Syria through the temporary land crossings between the two governments for an indefinite period and return whenever they want.
the Turkish passport is issued according to uncomplicated procedures and in simple steps:
You must first book an appointment from the Turkish ministry via the Internet or call via number 199, then pay the cost of obtaining the passport and send it through one of the Turkish postal centers PTT then obtain a receipt for the amount, submit the required documents to the Population Department at the date that has been determined.
Documents required to obtain a Turkish passport:
Personal ID and a photocopy of it.
Two personal photos.
Receipt of payment in the mail.
Residence proof document.
Request for extraction and fill it with the required data.
After the completion of the previous steps, the passport is sent to the applicant to the address it has fixed in the Population Department, after a maximum period of 30 days.
The fees for obtaining a Turkish passport vary according to its validity period, and the fees may increase annually due to high taxes in Turkey in general.
| | |
| --- | --- |
| validity period of the passport | fees in Turkish Lira |
| 6 months | 170 TL |
| 1 year | 249 TL |
| 2 years | 405 TL |
| 3 years | 575 TL |
| 4-10 years | 811 TL |
In addition to the passport book fees, about 133 Turkish liras, amounts may increase annually depending on the increase in taxes, the rest of the costs are simple such as personal photos, photocopying the necessary documents and obtaining a residence permit, which is about 100 Turkish liras.
If the required period is about 10 years, then the Turkish passport costs about 1000 Turkish liras, which is approximately 147 US dollars only.
Therefore, owning a Turkish passport has become a dream for many, not to mention that Turkey is a country witnessing an unprecedented renaissance and great interest and tireless work in mega projects most of which are near completion, the Turkish government is working to strengthen the economy and provide it with new sources of income that ensure its development and stability. In the long term, attracting foreign investments and attracting capital, in addition to developing the industrial, commercial, agricultural and real estate sectors, in addition to being a country that has a prominent international center at the regional and international level, in the near future Turkey will be the hub of linking Asia. And the Western world, transport and trade brokerage, just as the Turkish nation has a good history with various tyoes of people in the world, it is a nation that has its weight on a global level, which makes carrying a Turkish passport a cause for pride in belonging to a present nation throughout history.