The best shopping centers in Istanbul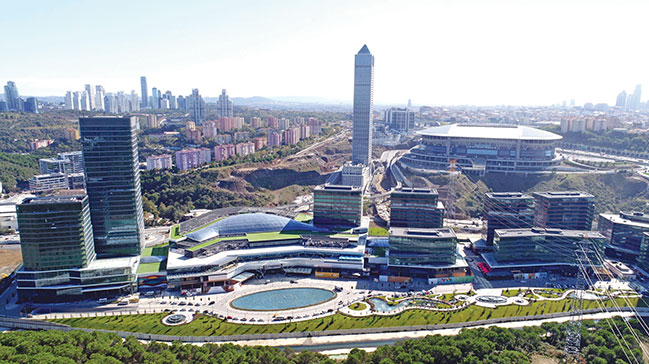 Shopping centers can be considered as a recently conducted concept in Turkey, as they only go back to late 1980s. However, once malls appeared on the marketing scene, the Turks embraced them immediatly with Almost every neighborhood having at least one shopping center. Below you can find some of the biggest, hottest and most amazing malls in Istanbul. Most of them are close to the Taksim area, thus they are easy to reach by bus, metro or taxi.
Akmerkz
Located in Etiler, a neighborhood next to Beşiktaş and one of the most desired areas among elite society in Istanbul. It is also close to the business districts of Levent and Maslak.
This four-storey mall with nearly 250 stores of 180,000 square meters opened its doors in December 1993. It is easily accessible to tourists and locals alike thanks to the free shuttle service to and from the nearby neighborhoods and hotels. It is open between 10:00 AM and 10:00 PM every day.
The center was chosen as the best shopping center in Europe in 1995 by the International Civil Service Commission. In 1996 it was recognized as the best shopping center in the world, and moreover, it also won the International Design and Development Award.
Akmerkez is a unique shopping center, because no other shopping center in the world has both of these titles. In 2010, it was awarded Best Interior Design by the European Commercial Property Awards.
Istinye Park
Located in Istinye district of Sarıyer with a new dimension to the concept of shopping in Istanbul. This shopping center extends over an area of ​​242,000 sqm offerring a variety of indoor and outdoor sections with a glass roof such as the green central park, fashion areas, street side shopping, 1500 sqm of children's entertainment centers, Hillside Sports and Recreation Club, The Bazaar is an area inspired by historical Turkish architecture - and 12 movie halls, one of which is IMAX 3D.
The best way to describe Istinye Park Shopping Center is green, eco-friendly, humane and centerpiece with fine detail.
Kanyon
Consisting of 4 floors and is located in the financial district of Levent extends over an area of ​​37,500 sqm. It contains of 160 stores of desired international brands in Turkey and plus luxurious restaurants, as well as a health club, sports club and cinema halls.
Kanyon Shopping Center received the 2006 Cityscape Architectural Review Award in the Commercial Buildings category.
City's Nişantaşı
In case you want to enjoy being in a fashion center let alone shopping, you must see City's Center in Nişantaşı which is part of Sisli district and very close to Taksim area blending in with the historical fabric of the area.
The mall's concept is described as a lifestyle shopping mall. It definitely deserves that elegant signature, considering the variety of shops, cafes, restaurants, and the lively six-story 24-hour parking service that it provides to the densely populated area.
Forum Istanbul
You can find everything you need in Forum Istanbul. This shopping center first appeared in 2009 and was built on a massive area of ​​495,000 sqm , of which about 8,000 square meters are occupied by Turkey's first huge aquarium, Turkuazoo, and the first Magic Ice Museum.
The rest is shared between major stores such as IKEA, Decathlon, Praktiker, several tech stores, 62 local and international clothing and stores, 15 cafes, 34 restaurants and 10 movie theaters.
Galleria
It is considered the first shopping center on the coastal road when leaving the airport and going to Istanbul.
Turkey faced many social changes in the 1980s. The mastermind was innovative Prime Minister Turgot Ozal who recommended building this shopping center since he was inspired by the Houston Galleria shopping center in Houston, Texas, USA. The Galleria Center is located close to the seaside in Ataköy, and was built on an area of ​​77,000 sqm.
It has many high-end stores, restaurants, movie halls, an ice rink and a bowling alley. The Galleria Shopping Center was awarded the most prestigious mall in the world in 1990 by the International Council of Shopping Centers (ICSC) for its sophisticated layout design, speedy construction and unique structural features.
Metrocity
Consisting of 4 floors, 140 stores, and located in the commercial side of Levent suburb. A Teflon-coated fiberglass fabric is used in the construction of the ceilings, making shopping fun.
Metro City is directly connected to the M2 metro line for easy access.